Commander Chris Hadfield Receives Award from the Lord Mayor of Dublin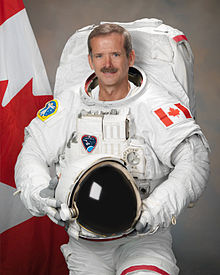 You may remember Commander Chris Hadfield. He's the Canadian astronaut who spent the last 5 months becoming the world's latest (and most social media savvy) space celebrity. Achievements unlocked during his stay aboard the International Space Station include a Twitter following of almost 1 million, a popular Tumblr blog and one of the most engaged-with Reddit AmAs (Ask me Anythings) of all time. He also had live chats with William Shatner and Classrooms of children worldwide. Additionally, he became somewhat of a rock star recording a Christmas song Jewell in the Night, he collaborated with Ed Robertson of the Barenaked Ladies and most notably ending his time aboard the ISS with the incredible tribute to David Bowie's A Space Oddity.
Commander Hadfield also fostered a curious relationship with Ireland during his time in orbit. His daughter Kristen attends Trinity College Dublin and he regularly tweeted as Gaeilge (in Irish) often including some mind-blowing aerial photos of the Emerald Isle. This has probably played a big part in the fact that the Commander has a legion of loyal fans here – including the Lord mayor of Dublin, whom today bestowed one of the city's greatest honours upon him – The Lord Mayor of Dublin Award.
These awards are given to only a select few individuals or groups each year who have "made a special contribution to Dublin and its citizens either at a local or city wide level". Commander Hadfield could not attend, his daughter instead picking up the reward for him, but of course he tweeted to say:

Need a job in science? Meet our teem of highly qualified recruitment consultants.
Follow Life Science on FaceBook for more news.
About the author: Conor Hughes works as a Marketing Executive at Life Science Recruitment