It's a Sick Auld World.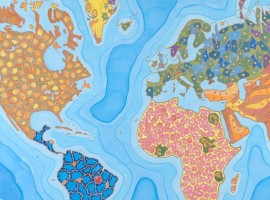 Here's a sweet piece of art by artist Odra Noel who is actually a trained doctor. She uses her knowledge of tissue structure, mitochondria and cells to produce maps which represent the various cells that suffer under the pandemics associated with these geographical locations.
North America is represented by adipose tissue to represent its ongoing struggle with obesity. South and central America suffers chronically with pulmonary conditions due to respiratory conditions associated with smoking. The average age of Europeans has been rising dramatically in recent years and the degenerative mental conditions that go hand in hand with the ageing process are signified her by neurons which comprise brain tissue. Asia has been stricken with heart conditions and is represented cardiac muscle. The far East and the Pacific are depicted as pancreatic acinar tissue; its failure causes diabetes, a major problem in this area, frequently described as a diabetes epidemic. Greenland is marked by a few sperm cells (infertility); the only artery is in the middle of the Amazon rainforest; and hidden among the tissues are five mitochondria, the organelle responsible for producing the chemical energy that cells need to live, and the current focus of much research into their key roles in death, disease and ageing.
The above piece of art is on show at the Royal Society Summer Science Exhibition, which showcases the most exciting cutting-edge UK science and technology. 2-7 July 2013, London
Click the image to enlarge.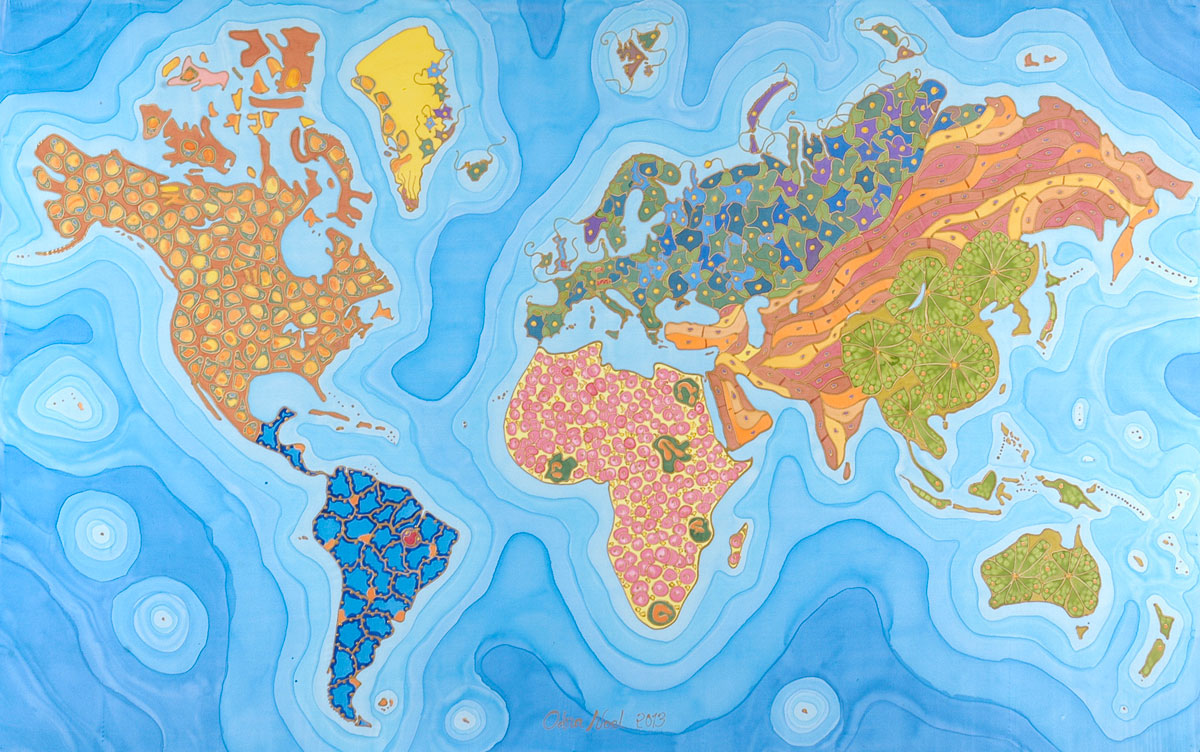 (Image: Odra Noel/Scientific Art/odranoel.eu)
If you are interested in jobs in the field of science please feel free to contact us. Our consultants would only be too happy to advise you on opportunities available worldwide.
About the author: Conor Hughes works as a Marketing Executive at Life Science Recruitment